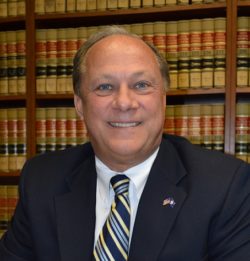 FAMILY: Jack and his wife, Brigetta, just recently celebrated their 36th wedding anniversary. They have 4 children ranging in ages from 25-32. They are also the proud grandparents of 5 granddaughters.

EDUCATION: Jack graduated, Magna Cum Laude, from West Virginia University with a B.A. in Political Science in 1982. Jack then received his M.B.A. from West Virginia University in 1983. Jack obtained his law degree from Columbia University in 1990, then and now, one of the top 5 law schools in the country, where he graduated near the top of his class.

MILITARY: At West Virginia University Jack was an ROTC Scholarship recipient. He graduated as a Distinguished Military Graduate and was selected as the George Marshall Scholar, the highest honor awarded to an ROTC Senior. After completing his Officer Basic Course, Jack was assigned as a medical platoon leader in the 8th Infantry Division in Germany where he rose to the rank of Captain. Among the various citations he received was the Meritorious Service Medal, rarely awarded to Captains.

PROFESSIONAL: After receiving his law degree, Jack went to work with one of the country's preeminent international law firms headquartered in Richmond, Virginia. Jack's practice initially was complex litigation matters where he handled cases throughout Virginia and the United States. Jack has tried cases at all levels, including cases before the Supreme Court of Virginia. Jack's practice developed into a land use, zoning and development practice. In 2008 Jack started his own practice in Chesterfield County focusing on land use, commercial real estate and litigation. Jack was admitted to the Virginia bar in 1990 and the West Virginia bar in 1991. He carries an AV Rating from Martindale Hubbell, the highest level possible, recognizing the highest level of professional excellence for legal knowledge, communication skills and ethical conduct.

COMMUNITY INVOLVEMENT: Jack has been very active in his local community serving on a number of Boards and Committees. Jack served on the Chesterfield Planning Commission from 2004 until 2008, serving as its Chairman in 2006. Jack has also been very active in several leadership roles at his church, Ironbridge Baptist Church, where he currently serves on its Executive Leadership Team charged with overall governance of the church.

POLITICAL: Jack has been an active Republican since college where he served as President of the College Republicans at West Virginia University. After moving to Chesterfield he became involved in the Chesterfield County Republican Committee, ultimately being elected Chairman of one of the most successful GOP units in Virginia. Jack served on the State Central Committee from the 7th Congressional District until redistricting put him in the 4th Congressional District. In 2007 Jack was elected Chairman of the 4th District Committee and has served in that capacity continuously since, making him the longest tenured District Chairman currently on State Central Committee. While serving as the 4th District Chairman, Jack has served on the Executive Committee of RPV, served terms as Chairman of the Budget Committee, Chaired the 2016 State Republican Convention and the 2018 6th District Convention while of course chairing his own 4th District Conventions.
---
Morton Blackwell began in 1960 to identify, train, and place bright young conservatives for leadership in the public policy process. Barry Goldwater's youngest elected national convention delegate in 1964, Blackwell chaired the state College Republicans and Young Republicans in Louisiana.

In 1980, he organized the national youth effort for Ronald Reagan, going on to serve on President Reagan's White House Staff. In 1984, Blackwell left the White House to work full-time as the President of the Leadership Institute, his educational foundation that he began in 1979. His Institute is dedicated to training and placing conservatives. In 2016, his Leadership Institute trained 10,274 people in its 47 types of training schools. His CampusReform.org website received more than 5.3 million unique visitors in 2016. Since 1988, he has served as the Virginia Republican National Committeeman. He now ranks number 4 in tenure among the 168 members of the RNC.
---
Cynthia Dunbar is an American patriot of Native-American descent. She currently is an author, public speaker, and National Committeewoman to the RNC for VA. She is a former elected member of the Texas State Board of Education, Assistant Professor of Law and Advisor to the Provost of Liberty University.

Cynthia Dunbar is a public servant working tirelessly at the local, state and national level. She is a contributing Professor for Constituting America, serves on the Boards of Directors of Faith 2 Action, Source for Women, Oil & Wine, Youth Can Lead, Amigos de Dios, and Merryfield Orphanage. Her policy and academic writings have been published by various mediums including William & Mary's Journal of Women and the Law, Washington University's John C. Danforth Center on Religion & Politics, Constituting America, Newsmax, and the Liberty Legal Journal.

Her passion for our Constitutional Republic has garnered her both National and International attention from the New York Times, Wall Street Journal, PBS, Dateline, Norwegian International Radio, BBC Radio and the London Guardian, among others. She has been featured in the New York Times Magazine, on Hardball with Chris Matthews, frequently seen on Fox News and is a regular contributor addressing educational policy issues on Fox and Friends.
---