CAREER POLITICIAN TERRY MCAULIFFE KICKS OFF GENERAL ELECTION CAMPAIGN BY LYING TO VOTERS…TWICE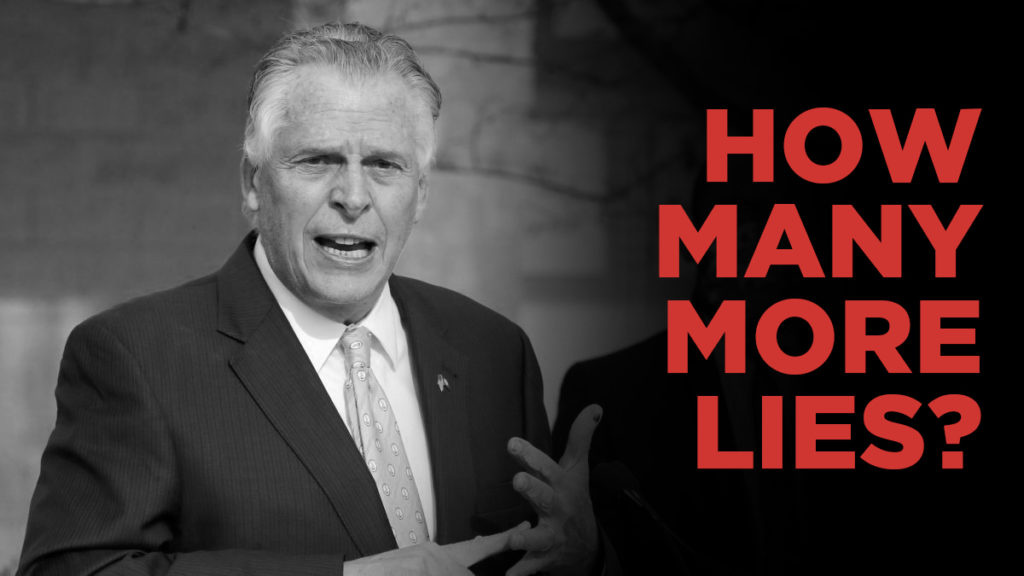 CAREER POLITICIAN TERRY MCAULIFFE KICKS OFF GENERAL ELECTION CAMPAIGN BY LYING TO VOTERS…TWICE
Career politician Terry McAuliffe today kicked off the Virginia gubernatorial general election by lying to Virginia voters…twice.
During an appearance on MSNBC, political insider and career politician Terry McAuliffe told Chuck Todd, "I inherited the largest deficit from the Republicans, I left a gigantic surplus."
The problem with McAuliffe's statement? The career politician has been rebuffed three times by liberal fact checkers in the past about the way he's characterized the budget he inherited.
It wasn't the first-time career politician Terry McAuliffe told that lie to Virginians. Earlier in the day, political insider Terry McAuliffe told Gray TV's Alana Austin that he reversed a historic deficit and left the Commonwealth with a huge surplus.
"If political insider Terry McAuliffe starts off the first day of the general election campaign by lying multiple times to Virginians, what lengths will he go to and what lies will he tell to get elected? Glenn Youngkin is a political outsider that has laid out a vision to unify Virginians around a positive agenda, not lie to them like career politician Terry McAuliffe," said Republican Party of Virginia Chairman Rich Anderson.