NEW POLL SHOWS VIRGINIANS REJECT VIRGINIA DEMOCRATS' RACIST EDUCATION POLICIES; RPV CALLS ON MCAULIFFE TO REJECT CRITICAL RACE THEORY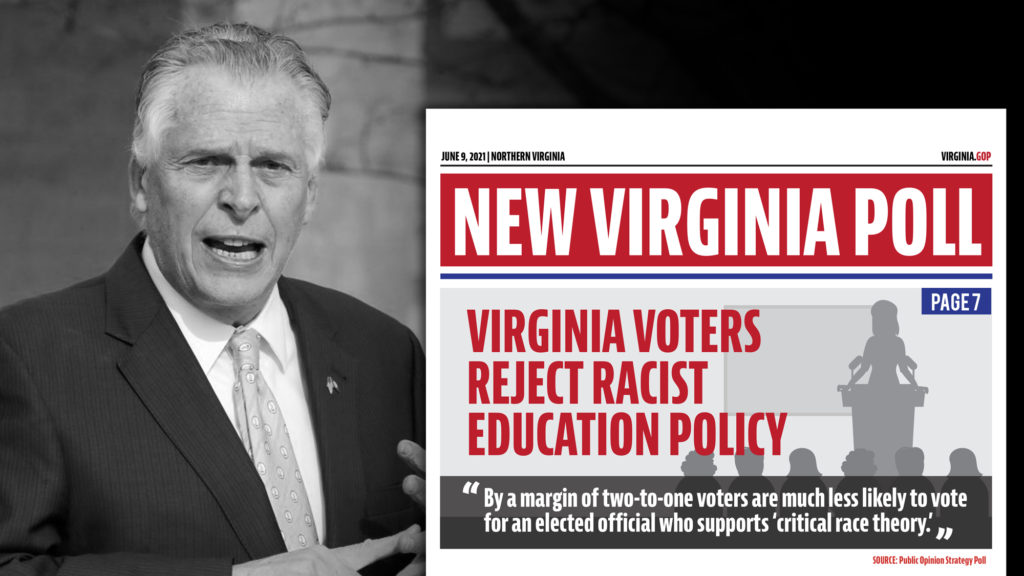 NEW POLL SHOWS VIRGINIANS REJECT VIRGINIA DEMOCRATS' RACIST EDUCATION POLICIES; RPV CALLS ON MCAULIFFE TO REJECT CRITICAL RACE THEORY
Republican Party of Virginia
804.780.0111
[email protected]
A new poll released today shows that Virginia voters resoundingly reject Critical Race Theory and the politicians who support the curriculum. 
"Political insider Terry McAuliffe must come clean and tell Virginia voters if he supports racist curriculum like Critical Race Theory being taught in Commonwealth schools," said Republican Party of Virginia Chairman Rich Anderson.
Key findings from the new poll include:
By a margin of two-to-one, voters are much less likely to vote for an elected official who supports "Critical Race Theory;"
"Critical Race Theory" is viewed negatively by voters in Fairfax and Loudoun counties, especially among older voters, Independents, and public schools;
Fairfax and Loudoun voters oppose "Critical Race Theory" being taught in local public schools; and
Loudon County voters strongly support efforts to recall the Loudon County School Board.