Senator Monty Mason Must Answer for His Racist "Slave Auction" Frat Event
Richmond, Virginia – September 22, 2023
State Senator Monty Mason has previously claimed that he had no knowledge of an alleged "slave auction" event held by the William & Mary chapter of Pi Lambda Phi while he was president of the fraternity in 1989. But according to new evidence reported by The Daily Wire, Senator Mason lied.
Senator Mason alleged that the description of the event in question as a "slave auction" was merely an inexplicable mistake by the college's newspaper. But a recently unearthed flier (pictured below) proves that the event was indeed advertised as a "slave auction."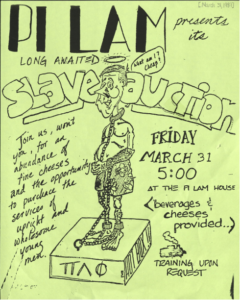 Does Senator Mason truly expect voters to believe that, as Pi Lambda Phi president, he had no idea that this event was marketed in this way? Why did he feign ignorance when asked about it back in 2019?
Senator Mason has a long history of not being completely truthful with his constituents.
Earlier this year, he was caught on a hot mic calling parents' rights "garbage" and "stupid" when he thought no one was listening. Yet when the cameras are on, he pretends to be a great champion of parents and students.
Senator Mason has also dishonestly tried to claim credit for Republican tax cuts and measures to bring down the cost of living, even though he had his party fought against such polices every step of the way.
Senator Mason's dishonesty has once again shown that voters just can't trust him.
Voters CAN trust Sheriff J.D. "Danny" Diggs, who is running against Senator Mason on the Republican ticket. Sherriff Diggs has spent his career serving his community, and has displayed the utmost honesty and integrity. Virginia needs more leaders like him in Richmond.
###